INTERNAL & EXTERNAL STEEL SPIRAL STAIRCASES
Steelgram Fabrications offer a complete design, manufacture and installation service for your spiral staircase requirements.
We offer spiral staircases in a range of materials, balustrades & tread combinations, to meet the demands of any application. Perfect for areas with restricted access, making use of the space available.
We can combine our spiral staircases with attractive design features, for internal or external application.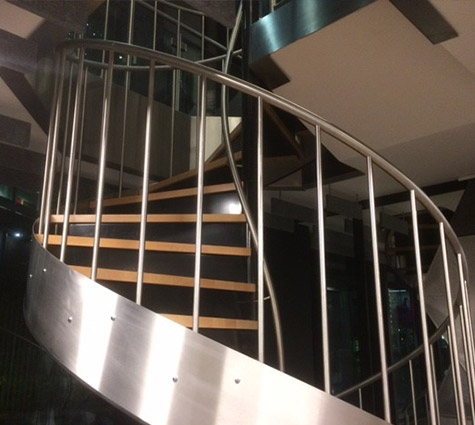 Attractive Design Features
Material, Balustrade, and Tread Options
Galvanised, Powder Coated, or Decorative Polish
Bolted or Welded Assembly
Internal or External Application
Durbar Pattern Trade Plate, Open Mesh, or GRP"

Benefits of a Steel Spiral Staircase
One of the main benefits of a spiral staircase is the small footprint that it takes up. They're mainly used where space is very limited, but you still want to provide access to multiple levels.
They're popular in shopping centres, warehouses, factories, and other showrooms.
In a residential setting, they're used to maximise square footage.
They also offer countless design and style variations, which can be attractive for those looking for a modern staircase look.