Due to the British weather, you can't offer al fresco dining year-round, despite its popularity.
School outdoor dining facilities are also increasing in demand to accommodate more students while working with tighter budgets.
Outdoor dining shelters are often more popular than indoor locations. Plus, they come with more space for a fraction of the price.
Steelgram Fabrications are fully accredited, with competitive pricing, and a full service solution. Contact us for a free quote today.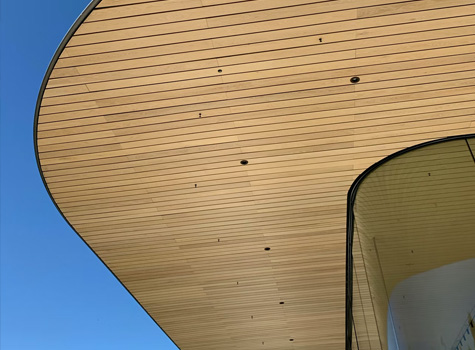 We're based in Sheffield, but serve the entire UK.
Every project is designed from scratch to your specific needs, so click the button below to fill out our quick quote form now:
Why Choose a School Dining Shelter?
A school dining area shelter is for students keen to have lunch outside in a covered area. They're popular because they offer a cheap alternative to overcrowded dining halls and soaring eating prices. You can add doors and side panels to school dining area shelters to provide enclosed space students can use year-round.

Cafe and Food Kiosk Shelters

Apart from dining shelters, we also provide cafe and food kiosks perfect for selling hot and cold drinks and snacks. You can use food kiosks as satellite eating stations in larger schools and colleges to reduce congestion in packed dining halls and ensure students remain on site.
You can offer various fit-outs and equipment to give your school the optimum setup and maximise your return on investment. A sheltered food kiosk kitted out to sell multiple hot and cold drinks, and hot snacks are fantastic additional amenities for students looking for nibbles.
Food kiosks boast several exterior finishes, including custom vinyl wrap and painted finishes customised for your needs. We deliver fully finished and furnished food kiosks you order with the catering supplies of your choice. It's up and running and prepared for use once connected to services.
Al fresco dining areas can open up new revenue streams for your restaurant. An awning or parasol, for instance, can breathe new life into a location that may currently be vastly underutilised.
Although many goods are naturally suitable for various uses, we feel all products on our website are appropriate for restaurants. You can use them for outside dining areas, weather permitting. The number of tables your restaurant can accommodate will improve the number of people you serve, which is essential to increase your income.
Radiator and lighting solutions to extend the hours you can use the outside space are available, increasing your daily income. Outdoor dining is popular in summer across the country and can set your restaurant apart from competitors. Plus, restaurant canopies protect from the rain, allowing use during downpours on otherwise warm days.
You can also use outdoor areas for advertising, enhancing the visibility of your business. Nothing works better than an outdoor area filled with happy guests to draw in new customers and passers-by. Besides, you can add logos and branding to awnings and umbrellas to increase your company's visibility.
In neighbourhoods with many restaurants, standing out is essential. Therefore, designing a welcoming and fashionable outdoor area may be the key to your establishment's success.
Covered outdoor spaces also expand your options for hosting events and gatherings, attracting many new people to your company.