Mezzanine Floor Design, Manufacture, and Installation Service
Steelgram Fabrications is a mezzanine floor supplier based in Sheffield, putting our 50 years of experience into every project.
We are your one point of contact from concept to completion of your mezzanine floor.
Our solutions are ideal for commercial, retail, office and industrial warehouse spaces.
We are UKCA accredited and adhere to strict building regulations, with all mezzanine projects designed by specialist engineers to be fully load-bearing.
Competitive prices, minimal disruption installation services, all necessary accreditations – full mezzanine floor solutions.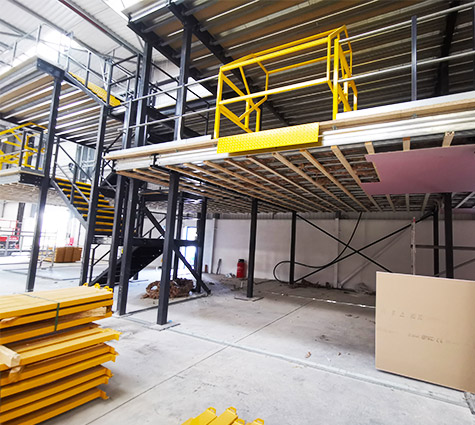 We're based in Sheffield, but serve the entire UK.
STANDARD & BESPOKE MEZZANINE SOLUTIONS
Ideal for creating extra floor space, office space, or storage in production facilities, workshops, and warehouses.
A great alternative to moving to new premises can be extended over time, and potentially increase the property value on resale.

What is an Industrial Mezzanine Floor?
A mezzanine floor is usually an intermediate floor level that's built between two other floor that doesn't take up the full area, helping to create more space without investing in a whole extra floor for a building.
They're also useful if you have tall structures/machinery in one part of a warehouse, but you still want to mazimise space with an extra floor in another part of the building.
They are sometimes known as commercial mezzanine floors, and are useful for both retail outlets and in a factory setting.
They're typically manufactured from steel and timber.