Mezzanine Floor Company UK
Steelgram will design, manufacture and install your entire mezzanine floor structure, including calculations to suit your specific requirements.
We evaluate all environmental and operator safety factors, and ensure the integrity of the structure and design.
Choose from various mezzanine staircase, balustrade, and multi-tier options, get a quote below.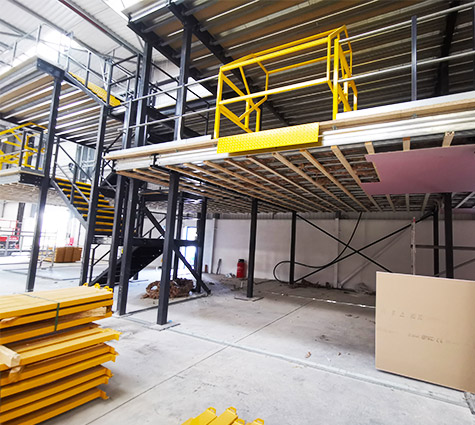 We're based in Sheffield, but serve the entire UK.
MEZZANINE FLOOR SOLUTIONS
Mezzanine Floor Staircases
We can offer fully customisable steel staircases for mezzanine floors, including spiral staircases.
Every project is designed from scratch for your specific needs, to click the button below to fill out our quick quote form now:
MEZZANINE FLOOR PROJECT EXAMPLES

What is a Mezzanine Floor?
A mezzanine floor is usually an intermediate floor level that's built between two other floor that doesn't take up the full area, helping to create more space without investing in a whole extra floor for a building.
They're also useful if you have tall structures/machinery in one part of a warehouse, but you still want to mazimise space with an extra floor in another part of the building.
They are sometimes known as commercial mezzanine floors, and are useful for both retail outlets and in a factory setting.
They're typically manufactured from steel and timber.
As a mezzanine floor supplier, we design, manufacture and install the steel parts of your mezzanine flooring system.