Industrial Canopy Systems
Our expertise lies in the design, manufacture, and delivery of permanent or temporary structures, such as industrial canopies.
Our industrial canopy shelters not only provide weather protection for freight, equipment, and vehicles, but they are also a cost-effective and great deterrent against theft and vandalism.
No matter what type of industrial company you own or operate, an industrial canopy will allow you to better organise and deliver your operations with greater efficiency.
We offer a variety of options and designs to meet your unique needs and demands.
Steelgram Fabrications are fully accredited, with competitive pricing, and a full service solution. Contact us for a free quote today.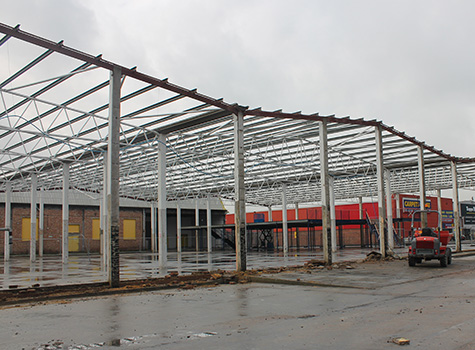 We're based in Sheffield, but serve the entire UK.
Every project is designed from scratch to your specific needs, so click the button below to fill out our quick quote form now:

When it comes to protecting your employees and equipment, our warehouse canopies are the best in the business.
Our constructions are made of long-lasting, weather-resistant materials that are built to survive the test of time. You don't have to worry about anything; both your equipment and your employees are safe and dry.
Made to Measure Warehouse Canopies
We recognise that no one canopy will meet the needs of every firm, which is why we provide a wide range of alternatives that may be customised to meet your individual requirements. Everything about the design of your canopy, from its size and shape to the materials and colours you pick, is completely under your control. This is why we take great satisfaction in the fact that each of our canopies is completely unique in its own way.
Design and material choices will be influenced by the function of your shelter, as well as its location in relation to the existing structure. In order to fully grasp your requirements and ideas for the building, Steelgram Fabrications will work closely with you. In this way, we are able to give you with professional advice on how to design your project so that it meets the highest functional standards.
Canopies are not limited by typical modular sizes, so we may maximise the covered surface while keeping your budget and requirements in mind at the same time.