You can have a sizeable outdoor covered area to cover household or business parking spaces with a car parking bay canopy that has been adequately planned and constructed.
Made to last – the best carport canopy is available at an incredibly low price, whether freestanding or wall-attached. Completely warranted in every size. Any Shade. Customised design.
We can create and install a car parking bay canopy that makes the best use of your available area while improving the aesthetics of the parking canopy. We understand the necessity to maximise the use of limited space while allowing you to participate in the design process from scratch to finish.
Steelgram Fabrications are fully accredited, with competitive pricing, and a full service solution. Contact us for a free quote today.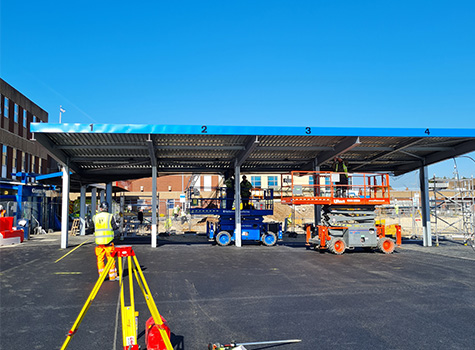 We're based in Sheffield, but serve the entire UK.
Every project is designed from scratch to your specific needs, so click the button below to fill out our quick quote form now:
Durable Car Park Canopies
Our parking bay canopies are made to be able to span up to seven and a half metres without the need for any intermediary support like legs. Therefore, clients can easily cover three common parking spaces with our canopies. The lack of need for extra help is the real benefit of spanning such a wide space. This makes the canopies more functional and removes any possible obstacles.
Rest assured, our car parking bay canopy will be uniquely designed and structurally manufactured to fit your specific site. We will build it to withstand snowfall and wind gusts typical in your region. We use steel to construct and install solid, robust canopies. They have been hot-dip galvanised to prevent rust completely.
The canopy can be powder coated in the RAL colour of your choice after being galvanised. Your preferred long-lasting 10mm multiwall polycarbonate colour will be used to glaze the roof. Finally, we will make guttering and downpipes according to your exact specifications so that water can be routed to the closest surface drain and kept away from the area.

Our car park shelters shield employees, guests, and other drivers from the elements when they get in or out of their cars.
Thanks to our Italia system, your clients and staff can park at your facility with confidence, knowing that they're safe and look wonderfully fashionable.
Additionally, they successfully serve as a protection against the sun's damaging rays when not shielding people from inclement weather and preventing frosty windscreens.
Our car canopy roofs minimise UV light exposure, preventing sun damage to automobile paint.