Free Standing Canopies & Shelters
A free-standing canopy for your commercial premises can unlock unused space to create an all-weather working environment that increases productivity and safety.
In terms of design flexibility and adaptability, free-standing canopies are a good alternative to wall-mounted canopies for a variety of reasons. With a free-standing canopy, you can set up an all-weather outdoor play area almost anywhere, which is a significant advantage in terms of convenience.
Steelgram Fabrications are fully accredited, with competitive pricing, and a full service solution. Contact us for a free quote today.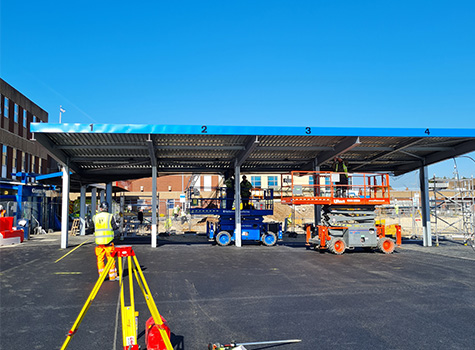 We're based in Sheffield, but serve the entire UK.
FREE STANDING CANOPY QUOTE
Every project is designed from scratch to your specific needs, so click the button below to fill out our quick quote form now:
Why Choose a Free Standing Canopy?
Ideal for buildings that cannot have canopies built against them.
Can be utilised for many purposes, including school canopies, events canopies, outdoor classrooms, play canopies, dining canopies, and much more.
Children may play and study outside all year long while being sheltered from the elements such as rain, snow, and sun.
Creates a covered waiting space outside your facility.
Excellent UV protection against UV rays.
Strong constructions with a long life expectancy.
Available in aluminium, steel, or timber canopy frames.

Why Choose Steelgram as Your Canopy Supplier?

We have a great deal of experience when it comes to supplying customers with a free-standing canopy that is both attractive and long-lasting.
We do not use any subcontractors. We continue to receive nothing but positive feedback regarding the friendliness and helpfulness of our installation crew to this day. Because we are passionate about offering exceptional customer service, we go above and beyond to guarantee that our clients are completely happy.
In addition to providing you with support and guidance after your canopy has been installed, we will also include an after-sales package that contains a canopy maintenance and after-care document to aid you in maintaining and caring for your canopy after it has been installed.