Cold Rolled Steel Building Supplier UK
Steelgram Fabrications are the UK's leading provider of cold rolled steel buildings.
We manage the entire project, from initial design and quotation, to manufacturing, and the final installation and approval.
These buildings are cost effective, reliable, and more environmentally friendly than alternatives.
Contact Steelgram today for a quote.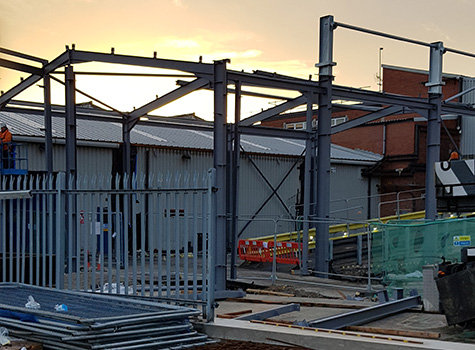 We're based in Sheffield, but serve the entire UK.
Every project is designed from scratch to your specific needs, so click the button below to fill out our quick quote form now:

Why Choose Cold Rolled Steel?

Speed of Delivery
With the development of roll forming capabilities in the United Kingdom. Manufacturing flexibility and a wider choice of sections may be found. As a result, automated roll formers may produce cold-rolled sections in 5-7 working days. In contrast, the Cold Rolled Solution does not rely on labour-intensive manufacturing procedures. In the same way as other Steel Frame manufacturing processes.
Logistically Efficient
Steel building components can be stacked together to save space in the back of transport vehicles. Thus, the number of vehicles needed is reduced.
Galvanised Steel
These frames are made from pre-galvanised steel.
In other words, all of the cold rolled frame components are galvanised, and no extra coating or painting will be required.
Ease of Installation
Cold Rolled material's excellent yield strength allows us to develop lightweight sections that suit the building's requirements. Components made of rolled steel are more lightweight than those made of hot steel, therefore they require less mechanical handling equipment. Even on bigger structures, the majority of the components in these buildings can be carried by two reasonably fit individuals.
Smaller (Cheaper) Foundations
The Cold Rolled Steel Building, like a hot Rolled Steel Framed Building, require strong foundations.
When a Cold Rolled Building is used, less weight is placed on the foundations, and smaller foundations mean lower construction costs.
Contact us today for a quote.