Steel Platforms Solutions
Steelgram Fabrications install a wide range of maintenance and access platforms, all manufactured and installed by us. It is possible for us to design, fabricate, and install the steelwork structure, as well as to do the necessary calculations, in order to provide safe access to your specified locations.
Steel platforms and walkways are designed with environmental and operator safety in mind to preserve the integrity of our designs and customer satisfaction.
Our industrial open mesh or solid flooring solutions, as well as any of our railing or balustrade systems, may be used with our steel platforms and walkways.
Contact us for a free quote today.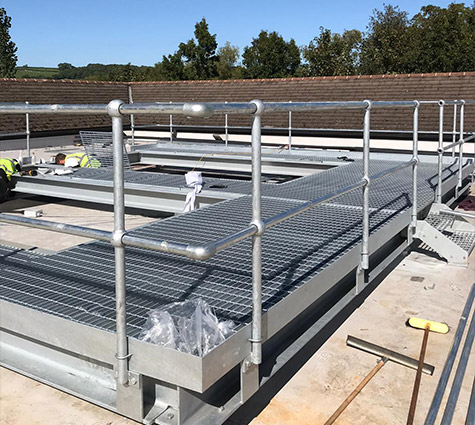 We're based in Sheffield, but serve the entire UK.
Every project is designed from scratch to your specific needs, so click the button below to fill out our quick quote form now:
Aside from fabricating and installing metal walkways and stairs made of aluminum, mild steel, and dull polished stainless steel, we can also galvanize and paint or powder-coat them to match your exact color preferences. The kind of flooring, handrail, and tread for any steps that you want can be specified by you or we can advise you on the best ones to use, taking into consideration traffic, environment, and installation constraints.

Drawings may be quite useful and even crucial at times. Drawings aren't always necessary if the platform isn't very sophisticated, and we can develop one for you in-house for free if that's what you want. Additionally, we are able to work with structural engineer's plans or develop drawings for a cost.
In accordance with British Standards and Health & Safety criteria, we manufacture only metal platforms, walkways, and steps that meet those standards.
Benefits of Platforms
Bespoke steel platforms to suit individual requirements
Aesthetically pleasing
To comply with planning consent and building regulations
To all relevant building regulations, British standards & loadings
Materials – mild steel, stainless steel and GRP
Finishes – mild steel self colour, galvanised or painted, Stainless Steel
Site surveys/technical visits can be carried out if required