Mezzanine Floor Solutions for Warehouses
If you need a cost-effective way to create more space in your warehouse without relocating, then a mezzanine floor from Steelgram is the answer.
Use your new space for storage, office space, pallet storage, shelving, and more. Customise safety barriers and access staircases.
Steelgram will help you from the initial design stage, all the way to the completion of your new mezzanine floor, including all safety calculations and a quote ahead of time.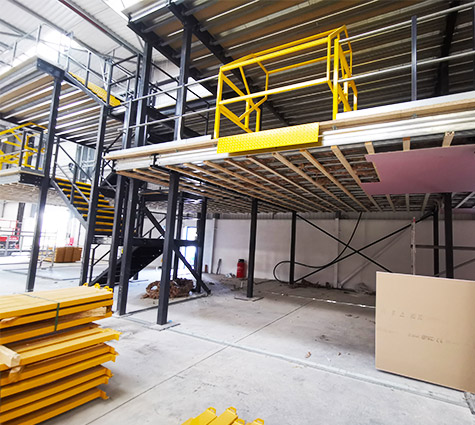 We're based in Sheffield, but serve the entire UK.
Every project is designed from scratch to your specific needs, so click the button below to fill out our quick quote form now:
MEZZANINE FLOOR PROJECT EXAMPLES
Why is a mezzanine floor in a warehouse important?
When you install a mezzanine floor in your warehouse, it means you can utilise new space without moving locations. It will also increase the value of the property, while keeping costs virtually the same. This extra capacity can be used for storage, office space, and more.

What is a Warehouse Mezzanine Floor?
A warehouse mezzanine floor is a way to create one or more new floors in your warehouse. They are freestanding structures that are independent of the overal warehouse building, made from vertical steel columns, horizontal primary steel beams, purlins, and chipboard (or other custom flooring options).