For travellers waiting to use a lift, our train station canopies, created especially for door and lift entrances, offer the best protection from the weather.
Additionally, they do away with the necessity for supporting columns at elevator entrances on railway platforms.
Steelgram Fabrications are fully accredited, with competitive pricing, and a full service solution. Contact us for a free quote today.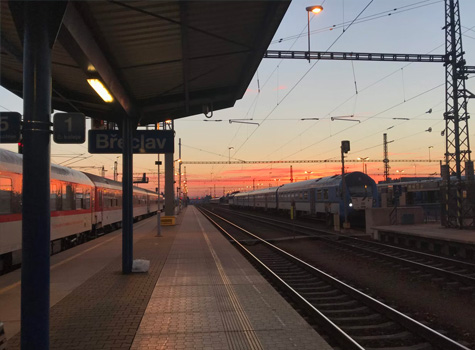 We're based in Sheffield, but serve the entire UK.
Every project is designed from scratch to your specific needs, so click the button below to fill out our quick quote form now:
Benefits of Lift Entrance Canopies
Our premium cantilevered train station canopies come in a range of sizes and styles and offer these advantages:
Eliminates the need for columns
Each of our entry canopies is constructed to suit the space where the lift is appropriately located. We ensure our station lift canopies extend outward by 1500mm to shield the passenger completely. Our cantilevered canopies' clever and helpful design eliminates the need for columns, which could limit consumer access, especially for the disabled.
Protection for lift passengers waiting
Our entrance canopies are specially made to give waiting travellers enough shade in lousy weather. Our railway station lift shelters will allow people to wait for their trains in dry conditions.

Versatile Station Canopies

From metal canopies and glass cladding to polycarbonate awnings – our custom train station canopies and lift shelters are available in an extensive range of designs and components, making them the ideal choice for any location. Choose between adding a sleek, contemporary canopy to your station platform and going for the more classic appearance many older stations want to preserve.
With a tremendous increase in demand for business door canopies, we can construct high-quality canopies at train stations throughout the United Kingdom. We expect the number of installations to snowball soon.