Front Door Building Canopies
Create a clear welcoming entrance that also functions as a unique and appealing architectural component for your building, with our range of Entrance Canopies.
In addition to drawing attention to the right door for guests to use, an entry canopy may be used to enlarge a porch space, providing a more spacious waiting area and increasing the impact of your entrance.
You can choose the most appropriate entry structure for your building's façade from among a selection of our designs, which include traditional apex structures and more contemporary domed, wall-mounted, and cantilevered canopy designs.
Steelgram Fabrications are fully accredited, with competitive pricing, and a full-service solution. Contact us for a free quote today.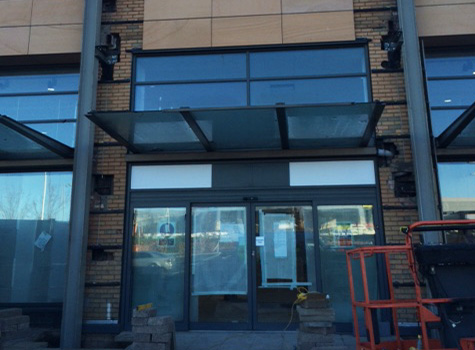 We're based in Sheffield, but serve the entire UK.
Every project is designed from scratch to your specific needs, so click the button below to fill out our quick quote form now:
Why Choose an Entrance Canopy?
Inform new visitors and customers about the location of the right entry to your building.
Make a good first impression on your consumers.
Use additional signage on the canopy to communicate with your customers right away.
Improve the appearance of your current building's exterior by giving it a fresh new look.
Provide a shaded and sheltered area for customers to wait
Create a welcoming area that can be coloured to match your branding or building

Why Choose Steelgram as Your Building Canopy Supplier?

Canopies have played an important role in the history of our organisation for quite some time.
One of our primary goals has always been to deliver canopies of the highest possible quality to all of our clients, which include recreation centres and universities as well as nursing homes and hospitals, as well as architects and general contractors, among other establishments.
Making a bold statement with a canopy at the front of your building, such as ours, is a wonderful approach to attract attention. We can assist you in selecting the most appropriate design for your building, regardless of whether you choose a classic or a contemporary aesthetic.
As a result, we can make one-of-a-kind entry canopies that are tailored to your exact specifications, guaranteeing that you have an entrance canopy that exceeds all of your expectations and meets all of your requirements.