We're a prominent producer of steel-framed farm structures in the United Kingdom. In the agriculture business, Steelgram Fabrications has a deep understanding of the issues faced by farmers.
This means that we'll do all in our power to keep our pricing low while still providing you with high-quality farm structures.
No job is too big or too small for us, and no structure is too "obscure" for us to handle. We'll give you exactly what you need, no matter what.
Contact us today for a quote.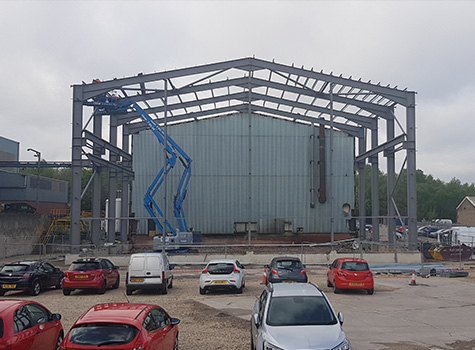 We're based in Sheffield, but serve the entire UK.
Every project is designed from scratch to your specific needs, so click the button below to fill out our quick quote form now:
Steel Barns and Buildings
We have a vast experience in manufacturing and constructing agricultural farm buildings.
These include livestock barns; grain storage facilities; sheep barns; straw barns; chicken storage facilities; potato storage facilities; and general-purpose structures.
If you already have the farm building of your dreams, but want to extend it with a lean-to or a side apex expansion, we can assist you as well. As we previously stated, no task is too minor for us to do (or too big).
Our experience ranges from selling basic agricultural buildings in kit form to creating completely unique farm structures that meet the specific needs of each individual customer. Mezzanine floors, for example, are a design that hasn't been seen before or that wasn't as frequent in the past. However, we are able to design and provide the building to your specifications, but with the assistance of our staff.

Durable Farm Workshops and Steel Garages

When it comes to farm and agricultural constructions, no one beats what we have to offer.
We are able to provide some of the best materials in the UK at reasonable pricing because of our long-standing ties with some of the country's premier manufacturing enterprises. The ties we've established over the years have allowed us to keep our prices low without affecting the quality of our goods. Our highly skilled crew is ready and prepared to handle any agricultural or difficult farm construction requirements
The strength and endurance of our steel farm buildings is the most important benefit of acquiring one of our structures. With us as your architectural partner, you can rest confident that we will produce a custom-tailored, weather-resistant, and time-tested design for your project. Many years of testing have proven our goods can withstand the British weather.
It's clear to us that our agricultural buildings are designed for a continual flow of people, resulting in a lot of movement. During the design process, we keep ergonomics in mind, providing for a strong capacity for our customer's daily operations.
Sincere suppliers and manufacturers supply us with the best grade of steel. We can ensure the durability and dependability of our goods since we only utilise the best raw materials. Farm shops and barns are common uses for our agricultural steel-framed buildings. It is important to us to design our buildings so that they are not only functional but also attractive to potential customers. Our structures are built to last and have a beautiful appearance.