ARCHITECTURAL STEEL STAIRCASES FOR COMMERCIAL PREMISES
Steelgram Fabrications produce steel staircases for businesses around the UK, ranging from traditional straight staircases, to more elaborate or curved/spiral designs.
You will have a variety of handrail and balustrade options, and we provide the 3D drawings and calculations for you, as we take your project from design, to manufacture, to installation.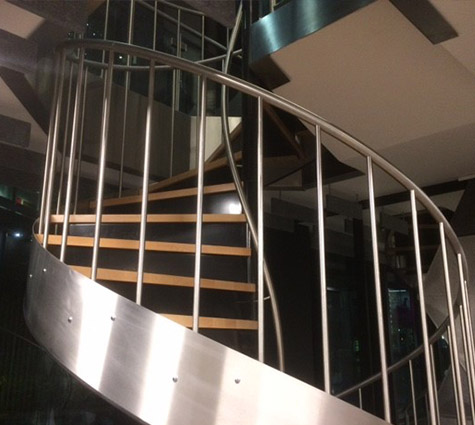 STEEL STAIRCASE SUPPLIERS
Multiple Handrail and Balustrade Options
Polyester Powder Coated/Painted
3D Drawings & Calculations Provided
What is a Steel Staircase used for?
Steel staircases are one of the main architectural steel fabrication elements used on buildings, and they consist of both the function/safety aspect as well as the design/aesthetical element.
Steel staircases offer several benefits over other materials, including a modern design, unrivalled strength, flexibility of production specifications, and simple installation processes.
They can consist of galvanised steel, glass balustrade, spiral staircases, and stainless steel.