Steel Frame Industrial Buildings
Industrial building designers, suppliers, and installers.
We serve the entire UK with our industrial steel building services.
Steelgram develop high-quality industrial buildings tailored to your specific needs, to match your unique requirements and budget.
Building a new custom steel structure is a significant investment and essential for any company. Your company's image and quality are reflected in the metal building's appearance and construction quality.
Contact us for a quote today.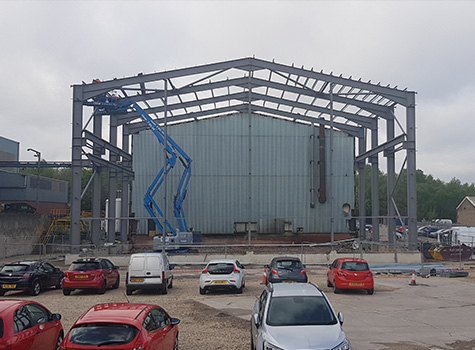 We're based in Sheffield, but serve the entire UK.
Every project is designed from scratch to your specific needs, so click the button below to fill out our quick quote form now:
You can rely on our steel industrial units to survive the test of time since they are cost-effective, well-designed constructions. Over the course of the design process, our designers will work closely with you to ensure that you get the most out of your investment by keeping you informed and proposing value-engineered solutions.
We're pleased to provide steel-framed structures to customers throughout the United Kingdom.

Why Choose a Steel Building?

Prefabricated structural steelwork is common in industrial structures. As a result, it is possible to design the buildings with larger tolerances, which reduces the amount of time spent constructing them in the weather. Bolted connections are used to assemble the exact components after being shipped to the job site.
Value for money, strength and ductility, prefabrication, decreased weight and environmental sustainability are only a few other advantages.
To meet your specific industrial storage requirements, we may design and construct a facility specifically for you based on your specifications. Since we've been active in steel frame construction for over 50 years, we've seen various scenarios and routinely design structures for industrial facilities, manufacturing units, workshops and salt storage buildings.
Buildings made of cold rolled steel may be used to produce lightweight structures. In contrast, hot rolled steel can be used to build typical steel structures using I beams, H sections and universal beams.
Depending on the size of your building, the floor plan, and any additional loads, our estimators will recommend the best kind for your needs. Also, the individual steel beams may be constructed to span wider lengths because of the steel building design, which is characteristic of the frames we provide.
Accredited Construction Management

With us, you'll be working with civil engineers, structural engineers, contracts managers, and site supervisors who have more than 50 years of experience in the construction business. All projects will be meticulously planned, completed on time and under budget due to this.
To guarantee that your customised building project goes off without a hitch and with a high level of customer care, we advise on every step of the construction process from the planning stage.
A working foreman supervises all of our construction workers. Because of our high health and safety standards, we have a long history of recurring business from domestic and foreign customers. It's common for us to be asked to perform our services in a real working environment for some of our clients, many of whom are large, well-known corporations.
Calculations, Quotations, and 3D Designs

Our goal is to provide you with a free, no-obligation estimate and 3D design for your industrial building within 24 hours of receiving your initial request. In addition, they will collaborate with you to meet your specific needs throughout the design process.
Throughout the process, we'll give budget-friendly solutions and suggestions for ways to save money. We'll provide you with a quote for your job and tell you what's included and what isn't.
Because our drawings can be used in planning applications. We can save you the cost of hiring architects and structural engineers during the costing stage. In addition, the structural calculations for the frame are included in all of our industrial constructions required by building requirements.
Many years of steel construction service in the UK have made us a well-known name in the country for our high-quality steel structures. You can rely on our staff to help you with steel construction, whether you require a commercial building or an agricultural building.
You can depend on our industrial steel frame building experts for any and all of your demands. For us, customer satisfaction is more important than delivering a high-quality product on time.
So, if you're looking for industrial steel structures, go no further than We. There are several reasons why we think you should go with us for your steel-framed industrial structures, including:
We have a long history of working in this field as a company. All around the UK, we provide a wide variety of steel structures. We're here to assist our clients with their questions and concerns. In addition, all of our steel buildings meet or exceed the most stringent industry standards.
Get a free estimate by contacting us now.
High Quality Steel Buildings

Our steel building specialists are ready to assist you in searching for a reliable supplier. Whether you're looking for custom metal structures or commercial units supported by metal frames, we're the professionals to call.
In addition to providing steel buildings for industrial usage, we also offer cold rolled steel structures, steel garages, and steel buildings for commercial use. Additionally, we provide our clients with assistance in obtaining planning authorisation.