CUSTOM STEEL ACCESS STEPS, RAILS, LADDERS, WALKWAYS, AND PLATFORMS
Steelgram design manufacture, and install all types of maintenance and access platforms and walkways.
We can design, manufacture and install the supporting steelwork structure, including calculations to suit your specific requirements, ensuring safe access. We evaluate environmental and operator safety factors in all of our steel platform and walkway designs to ensure the integrity of the structure design and customer satisfaction.
Our Steel platforms and walkways can be provided with our range of industrial open mesh or solid flooring options, incorporating any of our handrail or balustrade systems.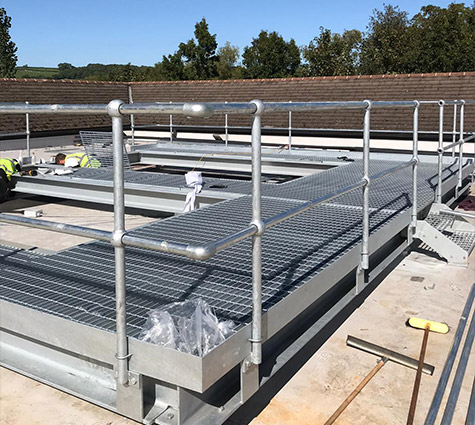 Design, Manufacture, & Installation
Maintenance, Access Platforms, & Walkways
Calculations to Suit Requirements
Environmental and Operator Safety Analysis
Handrail and Balustrade Options
What is an Access Platform?
An access platform is used to give workers either a permanent or temporary way to work at a height that isn't usually accessible.
They can consist of steps, rails, ladders, walkways and platforms.
These are popular in construction and manufacturing, where you may need to asemble or inspect specific areas on a large structure.
When this needs to be performed regularly, a more permanent structure is usually preferred.
Steelgram Fabrications offer a bespoke access platform service, contact us today to find out more.