STRUCTURAL STEEL CANOPY SUPPLIER
Steelgram Fabrications will design, manufacture and install your commercial steel canopy system.
These canopies are ideal for schools, shops, restaurants, hospitals, warehouses, and more; offering protected areas for your customers, staff, pupils, or employees.
They can be used for outdoor dining areas, staff smoking areas, play areas, welcome entrance areas, covered walkways, and more.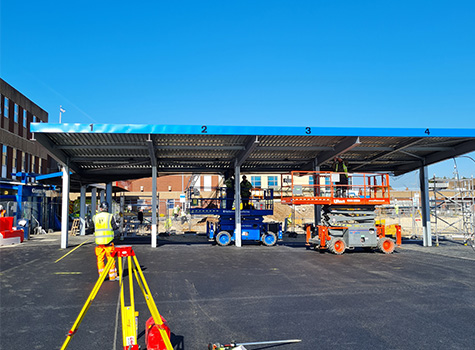 COMMERCIAL CANOPY SOLUTIONS
METAL CANOPIES & WALKWAYS
All Weather Areas – Built to Last
We Design, Manufacture, and Install.
Outdoor Learning & Play Area for Children
Why Choose a Commercial Metal Canopy?
A canopy enables you to host outside events or activities regardless of the weather.
Provide all-year access to the outdoors for your students, workers, or clients.
Children may safely play under the canopy thanks to UV filters included in our polycarbonate and fabric roofing systems.
It makes an excellent covered outdoor classroom, allowing kids to learn about nature no matter what the weather is like.
Allows businesses and cafés to enhance sitting capacity and profitability by providing all-weather outside dining and eating space.
Messy classes can be relocated beneath the canopy to keep the classroom clean.
A canopy can also serve as an outside waiting area, providing shade and cover for parents as they pick up young children.
Outdoor play or sports equipment should be stored outdoors to ensure that it may be utilised in damp weather without the need to dry it off beforehand. Enhance your canopy with roller shutters to create the ideal safe outdoor storage room.
We can design a canopy to your unique specifications and required functionality, and we have years of experience with plenty of case studies to show you. Enquire today, with the peace of mind that you'll receive a free consultation to make sure you're happy with everything before we proceed further.
Why Choose Steelgram As Your Canopy Supplier?
We have more than a decade of experience in the canopy industry, having installed hundreds of high-quality canopies in schools, nurseries, and colleges around the United Kingdom during that time. In addition, we provide outstanding canopy structures that are built to last in the healthcare, retail, recreational, and commercial industries as well as other sectors.
Using tight collaboration with our customers, we are able to ensure that our product gives the most possible benefit and is the ideal answer for all of the challenges that our client base is experiencing.
But if you're looking for something a little more distinctive, we can provide a design and build service that ensures the structure we create for you matches your design ambitions. Contact us now to learn more.
Every step of the way, from the first site survey to final installation, we will work with you to ensure that your project is successful. We can even supply you with free finance advice, whether it's in the form of fundraising or grant application assistance. To make your canopy purchase process as simple and pleasant as possible, we can also assist you with obtaining planning approval. Contact us now to learn more.
What is a Commercial Canopy?
A steel canopy is often a free standing, self supporting system that helps protect an area from the elements, or adds architectural appeal to an open space.
Free standing steel canopies have the benefit of being able to be installed anywhere, not requiring a solid wall to fix to like a wall mounted canopy would.
Steelgram Fabrications can help you from the design stage of your canopy, right through to the installation.
We can help you with barrel canopies, gull wing shapes, covered walkways, and more.
They're useful for warehouses, education venues, hospitals, garden centres, car showrooms, and care homes.
Commercial awnings can be used to dine al fresco, as umbrellas, outdoor seating, as an entrance canopy, a waiting shelter, general sheltered area, cycle shelters, covered walkway, commercial property entrance, outdoor shading, or general weather protection.
What Steel Canopy Sizes Do You Offer?
Have you ever considered the question, "How big are canopies?" before? Well please don't waste any more time thinking about it, because our canopies are available in a variety of sizes to accommodate your needs.
Each canopy is custom-built to match your specific needs, allowing you to enjoy the precise amount of shade and protection you choose in your outdoor space.
How Do You Clean Outdoor Canopies?
In order to keep your canopies in good condition, you will not need to do much work. Upon contacting us, we can provide you with particular cleaning recommendations for each canopy, but a good rule of thumb is to wash them with warm, soapy water with a soft bristles brush or cloth. There are no abrasives or harsh chemicals utilised.
How Do You Measure Canopies and Roof Systems?
We would really appreciate it if you could supply us with the measurements of the canopy you require so that we can provide you with an estimate for the project. Here, the length and width are the only two measurements to take into account. To offer a more accurate quote, we would need to visit your location and do a free site inspection as well as take in-depth measurements before we could do so.
What Are Your Canopies Made From?
Canopies are available in a variety of different materials to suit your needs. Our products are made from only the highest-quality materials in order to ensure that our product warranties and life expectancies are upheld. We have employed steel in the building of a number of our self-supporting structures.
What Are Your Canopies Made From?
Canopies are available in a variety of different materials to suit your needs. Our products are made from only the highest-quality materials in order to ensure that our product warranties and life expectancies are upheld. We have employed steel in the building of a number of our self-supporting structures.
What Are The Canopies Used For?
There are so many different applications for canopies that it would be hard to include them all in one page. For the most part, the primary aim of a canopy is to protect the area beneath it from the sun and ultraviolet radiation while also providing protection from rain and snow, which helps to keep the area beneath dry and protected.
Covered walkways, outdoor learning canopies, outdoor classes, swimming pool canopies, retail and commercial shelters, door canopies, outdoor dining canopies, PSHE canopies, events shelters, storage shelters, sandpit covers, playground canopies, care home canopies, hospital waiting canopies, and many other applications are possible with canopy structures.
School Canopies
Our canopies are useful in a variety of settings, including schools, nurseries, pre-schools, and universities. Thousands of installations have been completed in the education sector in the United Kingdom, making it our most popular sector.
Because of canopies, schools are able to educate their children more successfully while also letting them to be more independent and happy. The use of a school canopy allows teachers to move their classes outside, allowing their pupils to enjoy some exercise and fresh air while still being educated. They also provide areas for children to play, dine, and study in a safe environment.
Shops & Restaurant Canopies
The installation of canopy structures in shops and restaurants may be quite beneficial since they allow you to increase your selling and dining spaces. With another way of saying it, as you increase your selling or eating capacity, you will be able to earn more money by selling or serving more people.
An appropriate canopy would be one of our wall-mounted canopies or business awnings, which provide a covered area adjacent to your building. Contact us now for more information. Using a single button, restaurants and hotels can quickly and easily adjust their roof slats to accommodate the current weather conditions, making them incredibly popular.
Hospital & Care Home Canopies
Canopy areas in hospitals provide an opportunity for employees, patients, and visitors to take a break from the hustle and bustle of everyday hospital life and relax in a dry and shaded environment. A variety of other applications include the creation of covered waiting rooms and entrances with door canopies, which keep clients dry as they enter the business while also limiting the quantity of rain that may pose a problem by pushing it within the structure.
A large body of research has proven that patients who spend time outside of and away from the hospital setting are better able to heal as a result of their diseases.
Commercial & Industrial Canopies
Around the years, we've built hundreds of canopies in commercial buildings all over the United Kingdom, including warehouses, corporate offices, manufacturing plants and research labs, to name a few examples. Side fillers, lockable gates, and roller shutters, among other things, have proven to be beneficial to many of our customers in terms of keeping their possessions secure.
Aside from that, they constructed covered places for their employees and guests to enjoy spending time outside while remaining sheltered from the forces of nature.