Expand Office Space with a Mezzanine Floor
If your office or commercial space has a lot of wasted headroom, then a mezzanine floor can be the ideal solution for creating extra space.
Mezzanine floors are very cost effective, as you don't have to relocate to a new premises, and they can be installed with minimal disruption.
Steelgram offer a fully bespoke mezzanine floor service, from an initial consultation, to the design, manufacture, and the installation of your new floor.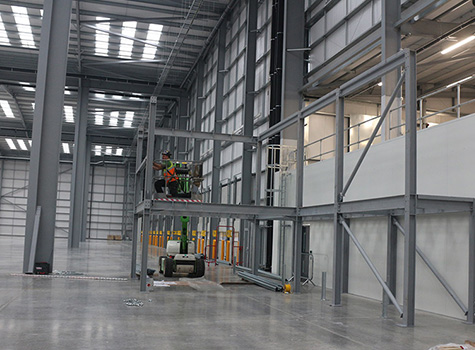 We're based in Sheffield, but serve the entire UK.
Every project is designed from scratch to your specific needs, so click the button below to fill out our quick quote form now:
MEZZANINE FLOOR PROJECT EXAMPLES

What is an office mezzanine?

An office mezzanine is a new floor in an existing building, made from a seperate structure from the main building. It creates a new floor to be used as office space, making use of headroom that is usually not utilised otherwise.
They can be a more cost effective solution than moving to a new office location.