Metal Storage Buildings Supplier
Steelgram Fabrications design, manufacture, and install UKCA-certified steel storage buildings across the entire UK.
Cold rolled storage buildings manufactured and installed by our company are among the best in the industry.
We supply and install all our steel-framed structures to your project specifications and budget requirements.
Contact us today for a quote.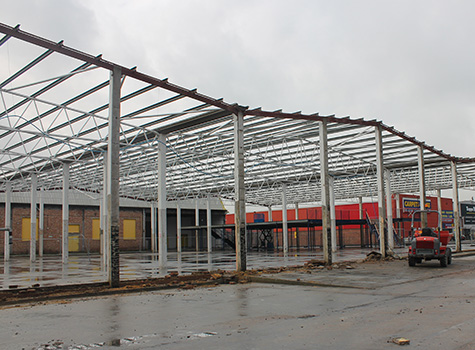 We're based in Sheffield, but serve the entire UK.
Every project is designed from scratch to your specific needs, so click the button below to fill out our quick quote form now:
The storage structures we offer are safe, sturdy, and designed to meet your specific needs. In addition, a mezzanine level can be incorporated within the design to meet your future storage requirements.
We can supply our services at a low cost across the country. We submit a complete set of structural drawings and structural calculations for building control approval. All of our steel structures come with this free of charge.
You don't have to spend money on an architect to see how a building will look before committing to a project.
You may see examples of our steel structures across our site, which we have supplied and built around the country. So it doesn't matter if you need a temporary storage facility or a temporary warehouse facility; we can help.

Steel storage buildings are commonly employed as a storage facilities for industrial and commercial items.
These storage facilities, which have characteristics comparable to steel garages, are an affordable alternative for commercial and industrial units that provide additional space for enterprises while standing up to the harsh British weather and heavy use.
We are here to help you locate the appropriate steel building for your needs, so if you have any questions or concerns, please feel free to contact us.
Our staff at Steelgram Fabrications are available to help you choose the right steel buildings for your needs. We provide a wide variety of steel buildings, ranging from large industrial facilities to small storage facilities.
Choose us, to utilise our 50+ years of experience, competitive pricing, UK-wide capabilities, and full project management (design to completion).
Contact Steelgram today.