Warehouses and distribution centres are among our specialties, and Steelgram Fabrications has extensive experience with these kinds of projects.
Over the years, we've developed close working relationships with a group of highly skilled engineers, allowing us to come up with innovative and cost-effective solutions to any planning dilemmas our clients present, all while guaranteeing that our customers receive the best possible service, end results, and overall value for their money every time.
There is no project too big or little for our steel framed design and construction expertise. If you have an idea of what you want, we can design a building that exceeds your expectations.
When combined with our turnkey project solutions, we have become a major player in the market.
Contact us for a quote today.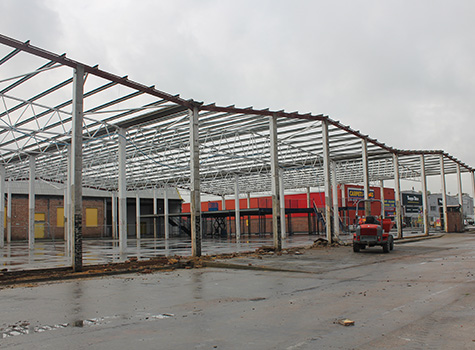 We're based in Sheffield, but serve the entire UK.
Every project is designed from scratch to your specific needs, so click the button below to fill out our quick quote form now:
Why Choose a Steel Warehouse?
Choosing a steel-framed warehouse for your distribution and storage needs has several advantages. When compared to other types of structures, steel structures have superior strength-to-weight ratios. As a result, steel is an excellent material for huge industrial structures like warehouses and factories.
A steel building from Steelgram Fabrications saves time in the near term and money both short and long-term. Steel constructions have a far quicker construction time due to the fact that the majority of the work is done off-site.
Buildings constructed of steel have the added advantage of being more ecologically friendly than those constructed of concrete or wood. Steel is a recyclable metal that does not pollute the environment throughout the production or construction process. A procedure known as 'dry construction' is used to assemble steel warehouses, which has a far lower environmental impact than the 'wet construction' associated with reinforced concrete.
A warehouse's steel components are bolted together, making it simple to remove them and make alterations if your needs change. When compared to other construction materials, this provides a level of flexibility that is difficult to discover.

Our steel warehouses and distribution hubs are also built with security in mind, and we take this extremely seriously. To ensure the safety and well-being of your valuables, storage facilities must be well protected. Steel structures, by their very nature, are well-suited to the installation of cutting-edge security measures like closed-circuit television cameras.
Cameras will be able to get a clear image of the inside because there are no columns to obscure the view. Steel, on the other hand, is the best material for coping with environmental deterioration. Steel structures offer the finest protection from floods, wind, cold, heat, or fire. Fear of fire's devastation is reduced because of steel's inflammability. As a consequence, you'll get lower insurance prices. In addition to being more resistant to decay, bugs, and mildew, steel structures are also more cost-effective to heat and cool throughout the winter and summer, respectively.
Whether it's a normal steel portal warehouse, a high bay warehouse, or a wide span steel framed warehouse, we can design and build it all for you. A tremendous deal of care and attention is paid to every job that comes our way.