Mezzanines for Industry & Factories
Optimise the the use space within your existing facility, with a bespoke mezzanine solution from Steelgram.
Mezzanine floors can both improve accessibility and safety, as well as offering new workspace and economical storage solutions.
If you have unused overhead space in your factory or production facility, then a mezzanine floor could make a lot of sense.
Steelgram offer a full mezzanine service, from an initial consultation, to the design, manufacture, and installation of your mezzanine floor.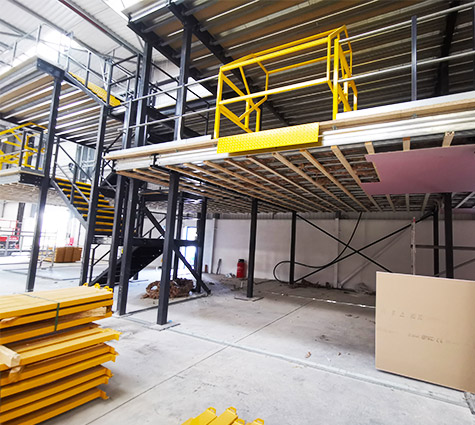 We're based in Sheffield, but serve the entire UK.
Every project is designed from scratch to your specific needs, so click the button below to fill out our quick quote form now:
MEZZANINE FLOOR PROJECT EXAMPLES

What is an Industrial Mezzanine Floor?
An industrial mezzanine floor is a free-standing structure designed to create a new floor within an existing building. It's made from fixed steel parts, which are quick to assemble. They are used to provide extra space for offices, access, and storage, without the need to relocate to a new premises.