Commercial & Industrial Steel Buildings Supplier UK
Steelgram Fabrications are experts in fabricating custom steel buildings for companies across the UK, offering a complete package from initial site surveys and full design mockups, to manufacturing and installing the new structures.
When it comes to steel framing, we've built a stellar reputation for our steel frame quality and our level of service over the years.
If you'd like to learn more about our steel frame installations, don't hesitate to contact our knowledgeable staff right now. Steel frame installation services are available from our company.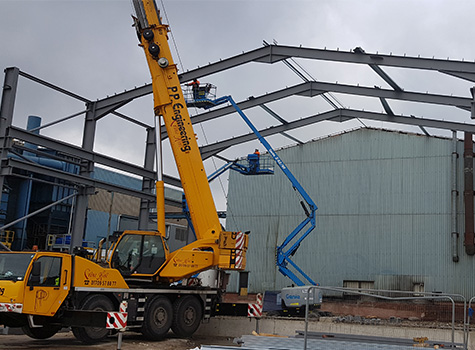 Steel frame buildings are exceptionally durable and cost-effective, ideal for a new premises, additional storage or outbuildings for the agricultural industry, warehouses for large operations and machinery, stables/equestrian buildings, industrial buildings, and storage units.
We can also help with structural steelwork on existing buildings.
All of our buildings are finished to the highest quality standards, manufactured to withstand the worst winter weather conditions that the UK has to offer.
Customer satisfaction is our number one goal, and our specialist team is on hand to help you through the entire process, from initial specifications and architectural drawings, to initial quote, all the way to manufacturing and installing your new steel building.
We configure the project to your requirements, including budget range, timescales, materials, specifications, and frame strength.
Our construction services include expert advice and accurate quotations, so you can take advantage of our years of experience as quality steel building suppliers. The durability of steel structures is important to any business, and so we ensure our frames meet all strength expectations from the original plans.
Our bespoke steel buildings are ideal for steel garages, commercial facilities, industrial units, storage buildings, automotive or vehicle storage, farm sheds/agricultural buildings, equestrian steel buildings, domestic steel buildings, aircraft hangars, and retail solutions.
We take you through the entire building design and frame construction process. We create cold rolled steel buildings, which use high quality steel with the state of the art functionality, meeting all British standards.
Why Choose a Structural Steel Building?
Structural steel components are lighter and more robust than wood or concrete. Because of the portal frame, vast or high areas may be spanned without internal walls or pillars when constructing in steel. Open, accessible storage areas may be utilised for warehouses, aircraft hangars, industrial, agricultural structures, storage units, workshop buildings, car test centres and horse riding facilities.
Using a portal frame structure reduces both the construction costs and the time it takes to build and provides a more durable and lower maintenance solution. With steel construction, you get better structures in less time and for less money.
Why Choose Steelgram as Your Steel Building Company?
With over 50 years of total construction experience in the office, we can offer our clients high-quality advice and assistance on every given project. Providing more than simply a custom cold rolled steel structure is something we take great pleasure in for our clients.
We collaborate with our clients to deliver a comprehensive turnkey solution, including groundwork, drainage services, brickwork and blockwork, windows, interior woodwork, plumbing and electrics, expert structural steelwork installation, insulated cladding, roller doors, and steel security doors.
Full Metal Building Project Management
With us, you'll be working with a team of civil engineers, structural engineers, contract managers, and site managers with a wealth of experience in the construction sector. This guarantees that each and every project is meticulously planned, completed safely, on schedule, and on budget.
In order to guarantee that your custom building project goes off well, we provide guidance on every element of the project, starting with the planning stage.
Calculation Estimates and 3D Designs
Our estimating department can provide a 3D concept drawing and a total price for your custom project. After that, they'll work with you from start to finish on the design to meet your specific needs.
As part of the process, we'll give budget advice and value engineering solutions to help you get the most bang for your buck. In addition, we'll provide you with a quote for your job and let you know what's included and what isn't.
We can save you money on architects and structural engineers since our drawings are utilised for planning applications. In addition, all of our buildings include structural calculations for the frame, which are needed by building rules.
Large Scale Buildings and Aircraft Hangars
We have you covered for anything from steel buildings to aeroplane hangars and everything in between. You don't have to worry about finding a location to keep your construction supplies since we've got you covered.
Our steel constructions can accommodate whatever type of storage you choose; we are confident in our ability to accomplish so.
Please do not hesitate to contact us if you have any questions or concerns about our steel buildings, aircraft storage, or aircraft hangars. We are happy to assist you.
UK-Wide Delivery and Installation Capabilities
We work with companies across the UK to realise their new steel buildings.
As we design, manufacture, and install the building, we can keep a close eye on the project, and ensure we meet all cost and delivery estimates in the original plan.
Contact our office for more information.