COMMERCIAL HANDRAIL AND BALUSTRADE SUPPLIER
Steelgram Fabrications have years of experience supplying stainless steel and glass balustrade solutions to companies across the UK.
We start with a bespoke design service based on our site visit, then we manufacture and install your balustrade.
We can also handle your complimentary structural steelwork requirements, such as infill panels, perforated sheet metal, and access platforms.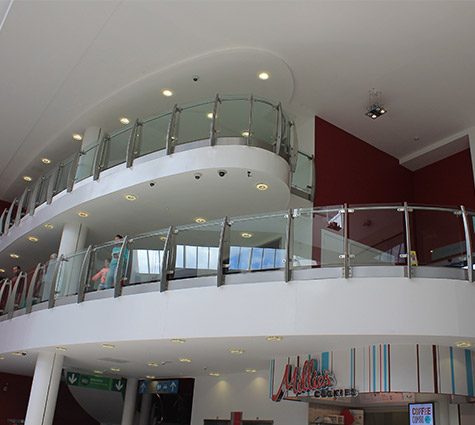 QUALITY STEEL BALUSTRADE FABRICATORS
Full Service: Design, Manufacture and Installation.
Stainless Steel and Glass Balustrades
We Provide Base Plates, Handrail Brackets, Glass Brackets, End Caps, and Corners.
Interior & Exterior Balustrade
Shopping Centre Balustrade
All Weather Railings Solution
Ballustrade is usually considered to be the combined components of the handrail, footrail and balusters of a staircase or walkway.
The balusters are the supporting uprights that the handrail rests upon.
Glass balustrades have a very minimal frame, often utilising glass clamps to create a minimal or completely seamless balustrade system. They can make an excellent focal point of a building, and help to create more collaborative working environments.