Walkway systems, both free-standing and wall-mounted, are available in a variety of shapes and sizes, ranging from contemporary curved designs to more classic, conventional apex roofed constructions.
We can make any of our traditional free-standing walkway systems completely unique to match your individual requirements. If you choose to have side fills built on your pathway, you will be able to protect it even more from the weather.
Steelgram Fabrications are fully accredited, with competitive pricing, and a full service solution. Contact us for a free quote today.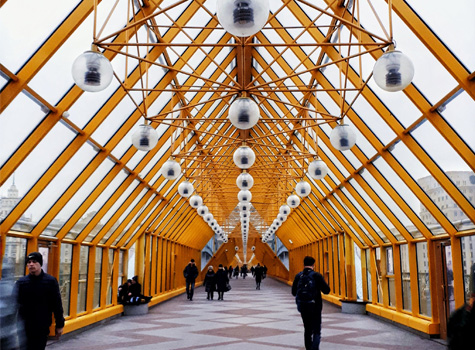 We're based in Sheffield, but serve the entire UK.
Every project is designed from scratch to your specific needs, so click the button below to fill out our quick quote form now:
Why Choose a Walkway Canopy?
Provides shelter between buildings – enhancing your guests' overall experience on your property.
Useful for showing people around your site or outside the shop area.
Facilitates the removal of standing water and ice from pavements and routes
Increases the safety of workers on the job site by converting them from a frenzied sprint in the rain into a smart walk
Flexible – Can be utilised as a waiting room or a meeting space.
Improves and modernises the appearance of a space

Why Choose Steelgram as Your Walkway Supplier?

Our walkways are heavy-duty, commercial-grade structures that we have planned and constructed on our own time. We have been providing weather-protection structures to the education, retail, healthcare, and hospitality industries for many years, both directly to the end-user and through third-party builders and architects.
The installation of your canopy will be conducted in a manner that will cause the least amount of disruption to the regular operations of your school or office, and the site will be kept clean and tidy following completion. Our team will continue to communicate with you after your walkway has been built, and we will be accessible to answer any questions you may have.