Steelgram Fabrications can help you find a secure and appropriate platform for your application or environment. Working at heights and gaining access to difficult areas are two of our specialties, and we can draw on our thirty years of knowledge to help you.
We provide our clients with a one-stop shop for anything from simple custom hop-ups to more intricate custom access staging.
Contact us for a quote today.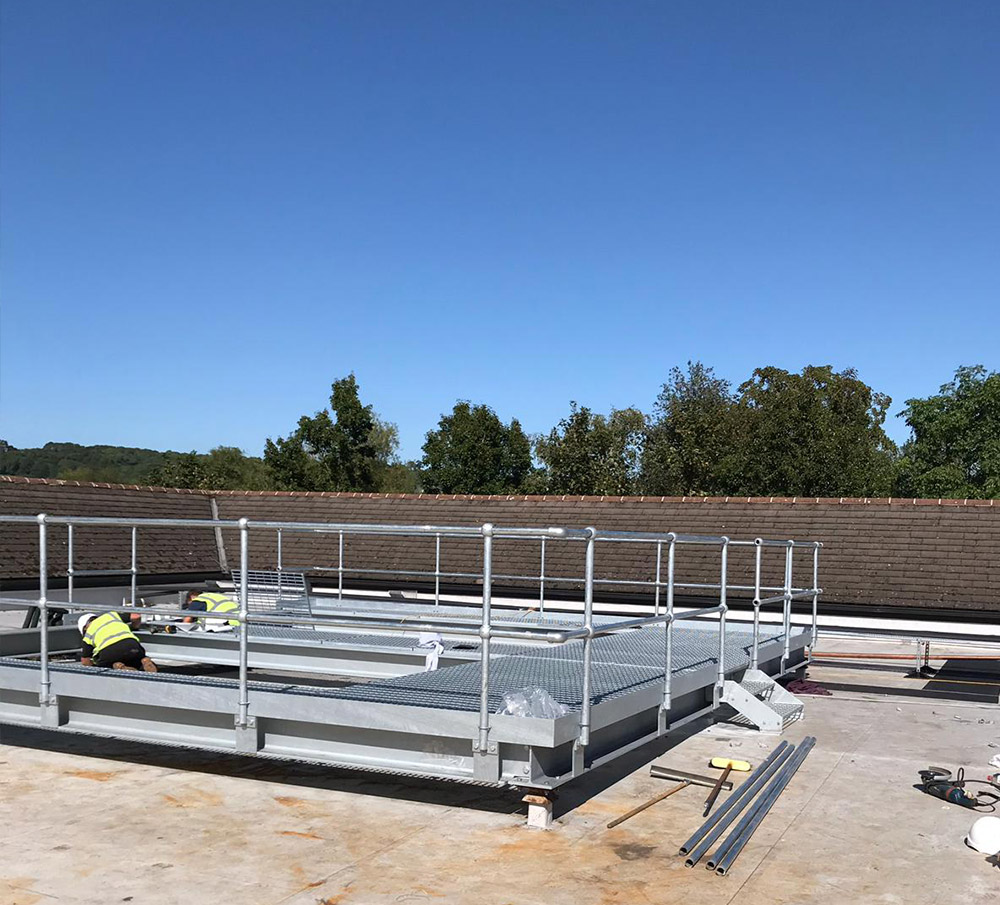 We're based in Sheffield, but serve the entire UK.
Every project is designed from scratch to your specific needs, so click the button below to fill out our quick quote form now:
Bespoke Maintenance Platforms
When it comes to today's highly regulated workplaces and mandatory safety compliance, a company's workplace must ensure both productivity and employee safety.
This is for everyone's benefit, not just the worker's. Injuries on the job can have a detrimental impact on production, which in turn has a negative impact on the profitability of the firm. As a result, maintenance and construction personnel are no longer allowed to easily scale structures and equipment to carry out their duties. A common defence is the lack of appropriate access equipment for a certain form or size necessitating some other method of entry.

As a business owner, you have a responsibility to ensure the safety of your employees. Because of our custom access platforms, your staff will be able to work at the proper height, reducing the risk of a fall and increasing output and efficiency.
Protect Your Assets & Speed Up Maintenance

As a result, our secure access solutions are designed to function with and around a wide range of complex, costly, and technologically advanced equipment. Our systems have built-in security mechanisms to keep your valuables safe.
The time it takes to accomplish maintenance and manufacturing tasks will be reduced if your workers have access to the correct equipment.
Speed Up Maintenance
The time it takes to accomplish maintenance and manufacturing tasks will be reduced if your workers have access to the correct equipment.
Clients and Steelgram Fabrications have a tight working relationship. When it comes to designing a solution for your individual needs, our clients are always in the driver's seat.
Platforms enabling safe access to work at a height are made to order for each job site, typically to accommodate unusual design. All of the sites are unique in their own way. As compared to standard goods, custom workstations provide significantly more functionality and flexibility.
Work platforms tailored to your needs may be created by Steelgram Fabrications. Our platforms may be powder painted in any colour of your choice and incorporate leading edge cushioning, extra handrails, self-closing gates, or other safety measures.
Platform Applications
industry, but rather the problem you're seeking to address when it comes to working at heights. As a world-class leading firm, we can provide you with information that is immediately relevant to your needs.
Solutions include:
GRP Maintenance Platform
Train Access Platform
Roof Step Over Platform
Vehicle Access Platform
Warehouse Work Platform
Aircraft Maintenance Platform
Water Tank Platform
Plant Access Platform
Roof top applications include:
AHU plant (air-conditioning)
Aerials
Ducting
Inlet and Exhaust pipes
Meteorological equipment
Storage tanks
Test probes
Ground level or internal locations for:
Low level access
Machinery access
Roof space access
Tank and filter access