Our spectator stands are ideal for upgrading your stand and seating capacity.
Choose from our cost-effective Sports Stands, our off-the-shelf spectator stands, available as a sitting or terrace option, or our more thorough purpose-built grandstands to keep your 12th man (or woman) cosy and dry.
Steelgram Fabrications are fully accredited, with competitive pricing, and a full-service solution. Contact us for a free quote today.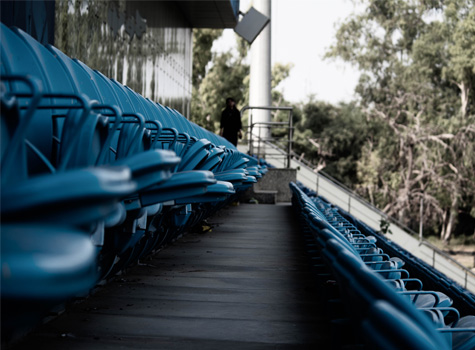 We're based in Sheffield, but serve the entire UK.
Every project is designed from scratch to your specific needs, so click the button below to fill out our quick quote form now:
Why Choose our Sports Grandstands?
We provide a wide selection of colourful, award-winning, reasonably priced sports grandstands.
Together with our tried and tested tiered seating system, they give a versatile, modular cantilevered roof cover. Complete with safety barriers, you can also get them as a standing terrace.
These are excellent options to enhance your stand and seats and comply with FA ground grading regulations. Here are the benefits at a glance:
Storage areas can be incorporated underneath the stand.
Offers unbroken spectator views.
Seating and cladding colours are customisable to match the needed colours.
Flexible design; designable stands to fit your needs and add them later if necessary.
Fully galvanised stands for quick installation on site without any disruption.