LATEST PORTAL FRAME PROJECTS 2023
Real projects from Steelgram in the UK
Bespoke Metal Framed Buildings for Industrial & Agricultural Businesses in the UK
Steelgram Fabrications can provide all types of steel portal frame buildings used in the general construction of pitched buildings. They are sometimes known as "super sheds".
We provide a complete service, from the initial site visit and bespoke design stage, to the manufacture and construction of your steel building.
We're a UK supplier, based in our Sheffield headquarters, fully UKCA accredited, with over 50 years experience.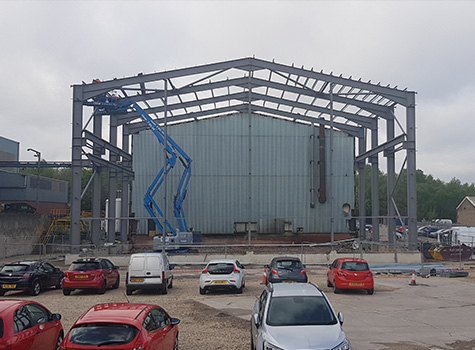 Steel Portal Frame Services
We design, fabricate, manufacture, construct, and install steel portal frames.
Learn about the types of portal frames we offer below:

What is a Steel Portal Frame Building?
Steel portal framed buildings are fairly low-rise structures used to build warehouses, barns, and other open-space buildings in a cost-efficient and fast manner.
We have a more detailed article on portal frames here.
They are very rigid structures, which is great for longevity, and the simple nature of construction makes them cost and time-efficient.
They're typically available as a freestanding symmetrical pitched roof or as a mono-pitched roof that can be attached to an existing structure.
They can be manufactured with substantial eaves/haunch and bracing, for maximum stability of all joints and foundations.
Steelgram Fabrications can also offer secondary steelwork in addition to this service, which helps when making fine adjustments after the main project is completed.
We are located in Sheffield but serve the entire UK. Conveniently located in South Yorkshire for businesses around York, Bradford, Leeds, Chesterfield, and Manchester.
See more information on our Portal Frame Construction page.
Benefits of Steel Portal Framed Buildings for Businesses
Now that we've introduced you to why steel framed buildings are beneficial for all sorts of construction projects, it's time to go into more detail. Below, you'll find additional benefits from these types of frames:
Comparatively, there is no better value for money than with this type of construction;
Off-site assembly reduces costs by assembling components in a low-cost manner, enhancing worker safety while reducing construction times;
Buildings with steel portal frames can be strengthened, if necessary, to withstand high winds and snowfall;
Buildings built with steel portal frames can be easily extended or moved at a later date.
Steel as a material has strength and is very durable, designed to stay strong under load.
Our reputable team can design, manufacture, and install any steel portal frame as per specific client requirements. In addition to this, we also offer a wide range of additional options such as fire escapes, staircases, cladding, columns, rafters, insulation, blockwork, panels, beams, windows, racking that is adjustable, and access ladders.
Ideal for several business types, including warehouses, workshops, retail locations, and agricultural buildings. This versatile steel frame structure will give you extra storage, more floor space, office space, engineering space, and make use of previously unused areas.
Steel portal frame buildings offer many different benefits and they ensure that you have the best results within your budget. Each steel portal frame building that is constructed by our team is carefully engineered by experts to meet UKCA marking after Brexit.
Because steel portal frame buildings are very easy and quick to build with good durability, little to no maintenance is required in the long-term. These types of buildings offer exceptional flexibility and they provide an economic way of providing space.
They can last between 50 and 100 years with proper maintenance. If you're interested in the fire performance of steel structures, see this document at Steelconstruction.info.
Get a quotation from Steelgram today, we'll be happy to discuss your needs and provide a comprehensive quote for all the features and elements you need.
Choose Steelgram Fabrications for Bespoke Design, Manufacture, and Installation of Portal Frames Throughout The UK
We offer our customers a design and build service along with our steel portal frame buildings and bespoke agricultural buildings, which can help you reduce costs during the pre-build phase.
Our team of experts can design your building for you, taking the stress out of the process. Each detail of your design is carefully considered and covered by our highly experienced team of designers and draughtsmen.
For more information about our steel portal frame building design and build services, please contact us to arrange an appointment.