DESIGN, MANUFACTURE, & INSTALLATION OF PORTAL FRAME BUILDINGS
Steelgram Fabrications can provide all types of portal frame buildings used in the general construction of pitched buildings. They are sometimes known as "super sheds".
We provide a complete service, from the initial site visit and bespoke design stage, to the manufacture and installation of your building.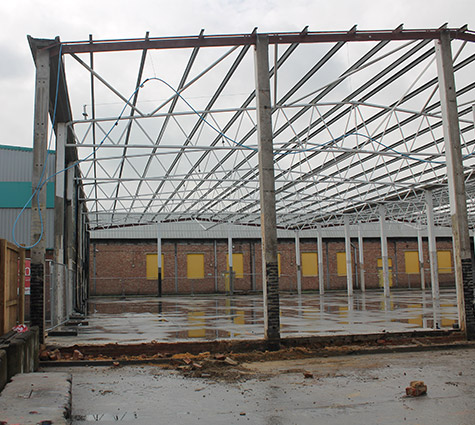 Steel Portal Frame Fabrication Services
Pitched Roof Symmetric Portal Frames
Crane Portal Frames with Column Brackets
Cellular Beam Portal Frames
Portal Frames with Internal Mezzanine Floors
Curved Rafter Portal Frames
What is a Steel Portal Frame?
Steel portal framed buildings are fairly low-rise structures used to build warehouses, barns, and other open space buildings in a cost efficient and fast manner.
They are very rigid structures, which is great for longevity, and the simple nature of construction makes them cost and time efficient.
They're typically available as a freestanding symmetrical pitched roof or as a mono-pitched roof that can be attached to an existing structure.