Steelgram Fabrications are the UK's leading prefabrication steel building providers.
We manage the entire project, including the design, manufacture, and installation of your new building.
Modular steel buildings are a cost effective way to get up and running quickly.
Contact us today for a quote.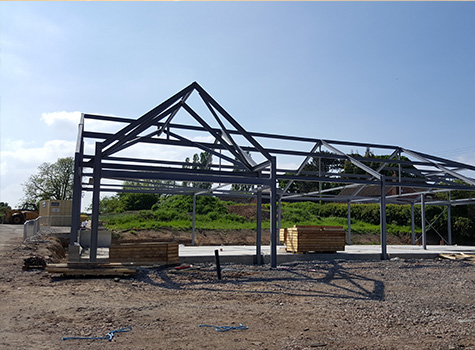 We're based in Sheffield, but serve the entire UK.
PREFABRICATED BUILDING QUOTE
Every project is designed from scratch to your specific needs, so click the button below to fill out our quick quote form now:
Both cold rolled and hot-rolled steel constructions may be produced, supplied, and installed by us, and one has benefits over the other in terms of price, quality, and installation time. We provide a complete turnkey solution for all of our services offered across the UK.
We take great pleasure in providing excellent service to our clients and building to the highest possible standards. We are here to assist you through the difficult process of planning and building your project.
With over 50 years of combined experience in civil engineering, contracts management, procurement, site management and structural engineering, and constructing a steel-framed structure, our team is uniquely qualified to handle all aspects of the construction process.

This is a necessity for construction rules, thus we design every one of our structures specifically for your site and needs. The structures are built to British Standards and may be customised to fit your specific needs.
Buildings made of cold rolled steel that we provide are constructed using a portal frame in compliance with British Standards or European Union regulations.
Our in-house teams of experts design, fabricate, and erect our hot-rolled constructions. Open-span structures are typically built using this technology. It doesn't matter if you're looking for a simple or sophisticated structure; we've got you covered!
What Are Prefab Buildings Used For?

Our metal framed buildings have a wide range of applications due to their low cost of construction and extensive experience. For the past 50 years, our custom-built structures have been utilised for a variety of purposes, including:
Storage Buildings
Steel Garages
Temporary Buildings
Exhibition Buildings
Indoor Riding Arenas
Agricultural Buildings
Industrial Units
Gas terminals
Office buildings
MOT workshops
Valet Buildings
Aircraft Hangars
HGV Workshops
Commercial Buildings
Exterior brickwork or blockwork, single-skin and insulated wall cladding, fibre cement roof sheeting, and external ornamental flashings can all be used to produce the aesthetic you desire for your construction.
We provide electric roller doors, insulated sectional doors, security doors, and fire escape doors for your new building's entrance. UPVC and aluminium windows are available in a variety of colours to complement your new building's exterior. We can also provide and install structural curtain walling to enhance the aesthetic and create a showroom ambiance, and our designers will give you with the experienced assistance you require in steel building design.