Cantilever Canopy Solutions
The ability to create a positively built environment, regardless of industry, goes beyond just adding function without regard to aesthetics; it involves really constructing places in which people who use your facilities can engage and desire to spend time there. Cantilever canopies are only one of the structures and canopies we can help you build to maximise your areas.
Cantilever canopies have been a part of our design and construction process for 50 years, and we've worked with a wide range of customers. When it comes to our projects, we focus on quality and longevity, employing materials and building procedures that satisfy very particular standards and taking a very personal approach to each one.
Steelgram Fabrications are fully accredited, with competitive pricing, and a full service solution. Contact us for a free quote today.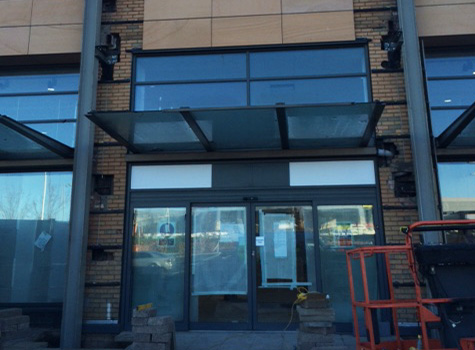 We're based in Sheffield, but serve the entire UK.
Every project is designed from scratch to your specific needs, so click the button below to fill out our quick quote form now:

What is a Cantilever Canopy?
One side of a school's cantilever canopy is supported entirely by uprights that extend down its whole length on one side. A large amount of covered space is provided by these structures, making them a popular choice for primary schools. Cantilever canopies with a range of roof forms and curves are available in a number of colours, as are the steelwork and roofing materials used to construct them.
An array of industries and building types rely on cantilever awnings since they provide for a big amount of shaded space right adjacent to your existing buildings. There are uprights on one side of the cantilever canopy and anchors on the other. Cantilever canopies are available with curved or straight roofs, as well as a variety of steelwork and roofing colour options, allowing you to create a canopy that is unique to your company.
Benefits of Cantilever vs Other Canopies
Cantilever canopies are a popular choice for schools and businesses because of the numerous benefits they provide to both. Because of their design, which has fewer uprights, there is more floor area available. These structures are widely used as entry canopies and playground shelters in areas with a younger demographic, such as parks and playgrounds.
Maximum Available Space
Cantilever canopies provide a covered area solution with the least amount of impediments, something that other types of canopies do not. It is possible to create an open and unconstrained space by placing the canopy's upright pillars towards the back of the building, against a wall. Cantilever canopies are an excellent choice for usage over play areas in schools, nurseries, and other public spaces where children are free to run and play without worry of colliding with a post because of its open and safe character.
Aside from covering entrances and covered pathways, cantilever canopies may also be utilised to cover sports spectator sections and stadium seating spaces. The fact that they do not obstruct the holes they are covering or the people who are hiding behind them makes them a fantastic alternative for sports fans. The open area beneath the cantilever canopies provides additional room for storing sports equipment and other items.
Outdoor Work & Play
Individuals may spend time outside while being safe, sheltered, and dry beneath cantilever canopies, which are available in a variety of sizes and styles to complement our covered area options. Providing access to outdoor space is essential for everyone of your students, employees, clients, visitors, patients, and residents of a care home, to name a few.
Because of the multiple health benefits that fresh air provides, it has been used to treat a wide variety of ailments for millennia now. Fresh, pure oxygen has been shown to help improve cardiovascular health, decrease blood pressure, and strengthen the immune system in several studies. It also has a positive impact on your emotional well-being. In response to increased intake of fresh oxygen, serotonin (often referred to as the "happy hormone") is generated in the brain, which boosts your mood while also assisting you in being calmer and more focused.
Having enough light is just as important as having enough shade (not just for topping up your tan). When the body is exposed to sunlight, it produces vitamin D, which is necessary for proper bone, tooth, and muscle development and function. Exposure to sunlight causes serotonin to be produced in the brain, which explains why being outside in the sunshine makes you feel so good!
The students, staff, and customers of your school, organisation, or business will be happier and healthier if you provide a safe and protected outdoor space.
canopies.
Protection From Bad Weather
Our cantilever canopy, like all of our other canopies, provides dependable shelter from the unpredictable British weather.
Polycarbonate or steel roofing with a high-strength, waterproof design keep you dry and protected from the rain and cold. The roof blocks out the sun's potentially dangerous UV rays, which can raise the risk of getting skin cancer, providing a cool and shaded location to escape the heat throughout the summer months. All-weather protection is provided by our cantilever canopies.
Unique Building Feature
A cantilever canopy is a fantastic addition to any structure, whether it is a university campus, a healthcare institution, or even a hotel or restaurant lobby, because of the numerous benefits it gives. The cantilever canopies' contemporary, sleek, and vivid designs will leave an impression on your students, employees, guests, and passers-by.
Because of the wide range of design and colour possibilities available, a cantilever canopy will stand out and attract attention while also complementing your existing buildings. Because of the aesthetic appeal and useful characteristics of a cantilever canopy, it has the ability to increase the value of your property.
Durable Features With Long Life
You can rest assured that every cantilever canopy you purchase from us is built to last a lifetime of use. Strong, long-lasting, and constructed from high-quality materials, our covered area solutions are a great choice. They're also well-designed and functional, and our team of professionals will properly install them for you.
When it comes to manufacturing our steel constructions in the United Kingdom, engineers with decades of experience and cutting-edge technology combine with old-fashioned British craftsmanship. Cantilever canopies made of durable coated steel go through a two-step manufacturing process. It is zinc-coated and galvanised as a first stage in the process of corrosion protection. In the following step, an electrostatically charged powdered resin is applied before being heated and cured in an oven at a temperature of 200 degrees Celsius for several minutes. Both of these techniques result in a protective coating for the steel that lasts for a long time.
Cost-Effective Solution
Additionally, they are exceptionally long-lasting and resilient, making our cantilever canopies an excellent choice for a variety of applications.
With our canopies, you won't have to worry about making repairs or climbing up and down ladders to keep them in good condition throughout the years, which means you won't have to worry about spending money or dragging out the ladders on a regular basis.
A more succinct expression would be that the cantilever canopy is an unexpectedly affordable option for providing coverage for an area. It is well worth the investment for the sake of your school or organisation!
Custom Sized Canopies
A cantilever canopy is unique in that no two of them are alike. Our canopy is available in a variety of unique configurations, allowing you to design a covered area solution that is suited to your specific requirements and tastes.
Colours
This is the portion of the design process that many of our clients look forward to the most! A wide range of colours are available for both the steel structure and the polycarbonate covering. Color schemes for cantilever awnings range from complementary to complementary, depending on whether you want your cantilever awning to stand out or blend in with the surrounding buildings and structures.
Roof Design
You have a variety of options for the canopy's roof, starting with the curvature. Clear or opal polycarbonate roofs are standard, although coloured roofs are available for an extra fee (depending on design).
Post Locations
When it comes to the placement of the upright pillars, you have three alternatives. For example, they may be placed on either side of a wall (back or front) or center-stage. For example, if there are any doors or other impediments that would make it difficult for the uprights to be positioned where you want them to be, you may want to consider moving them.
Extras
You may expand your cantilever canopy with a variety of optional accessories, including side panels (with numerous infill choices), aluminium guttering and downpipes, wall brackets, wide-span beams, and protective post pads for increased safety. Both the canopy and the post pads can have a same or contrasting shade of colour.
Sizes
Almost every size is available.
Canopy Finish
In addition to galvanising and powder coating, the solid steelwork frame can be given a colour treatment for further durability. Powder coating entails coating the steel with an electrostatically charged powdered resin before it is heated and cured in a 200°C oven, whereas galvanising involves adding a zinc coating to protect it against corrosion.
The knowledge of our design staff will guide you through every stage of the process, regardless of whether you have a clear notion of what you want or want some assistance narrowing down your selections. If our designers are involved in the project from the beginning, they have a greater chance of delivering a better product solution and a more efficient design process.
Who Should Choose a Cantilever Canopy?
Schools
Cantilever canopies can be utilised in a variety of applications in schools, including elementary and secondary schools as well as colleges and universities. We've worked with a large number of schools across the United Kingdom for many years, and we've witnessed firsthand the practical benefits that our canopies provide to students, teachers, parents, and visitors.
Entrances & Entrance Walkways
You don't want your visitors to be drenched as they wait to enter your institution. A cantilever design is used in an entry canopy. As a bonus, the canopy won't obstruct traffic flow or take up valuable floor space while providing weather protection for your guests. Our cantilever canopies, with their bright and eye-catching patterns, can help you make a good impression on visitors to your school by creating an attractive focus point.
General Walkways
As a means to protect students and personnel from the elements while they travel between classrooms, buildings, and parking lots, cantilever canopies can be built as covered pathways. Parents will particularly like this because it allows them to keep dry and protected as they wait to pick up their children from school. Large and spread-out school campuses benefit greatly from covered walkways that connect different sections and generate a feeling of community.
Playgrounds
A cantilever canopy is a great alternative if your playground backs up to a building, as it provides shade for students. Our canopies include a polycarbonate roof that is UV resistant and waterproof, so your students will be safe and dry while they take a break outside. A free and open play space may be created by putting upright poles on either side of the canopy against the wall, so avoiding any ugly accidents. As an added bonus, cantilever canopies may double as outdoor storage space for children's toys and play equipment when they're not in use.
Outdoor Dining & Playgrounds
On a tight budget, many schools nowadays find themselves in a tough situation. A cantilever canopy can let you enlarge your dining capacity at a fraction of the expense of expanding your dining room. In the event that you have picnic tables or benches positioned near to a building, cantilever canopies can transform this area into a safe and appropriate outdoor eating area. Your students will also appreciate the opportunity to dine al fresco because of it!
Sports Facilities & Grounds
Cantilever canopies are a good alternative for covering large areas of space in sporting stadiums when spectator sections are present. Any activity that utilises a cantilever canopy benefits from having a covered area where spectators and supporters can keep an eye on the action while keeping dry and protected from the weather.
As a result of its non-intrusive design, you can accommodate more people without interfering with anyone's view of the game, making it excellent for outdoor clubhouses and changing rooms.
In addition to storing wet sporting equipment, the room may also be used as a warming station during the winter months.
When used in a sporting facility, cantilever canopies provide a number of advantages, including the ability to increase attendance and improve the overall ambience.
Hospitals and Healthcare
In order for every healthcare institution, from hospitals to doctor's offices to nursing homes, access to a safe outside space is essential. Instead of being cooped up inside all of the time, your patients or residents may use the covered space provided by a cantilever canopy to eat, socialise, or simply relax instead of being confined to their rooms. Providing your patients or residents with fresh air and sunlight may have a lot of beneficial impacts on their health, both physically and emotionally.
The importance of providing a safe outside place, on the other hand, should not be overlooked. It is possible that temperatures have a considerable influence on health, particularly in the elderly and those who have prior medical conditions.
We hope that our canopy's UV-resistant polycarbonate roof will create a nice, shaded atmosphere for our patients and residents while also protecting them from the sun's harmful UV rays.
A cantilever canopy provides an outside break space for your staff and visitors, where they may eat their lunches, smoke, or simply enjoy the fresh air and sunlight while on their breaks. Investing in a canopy for your business might pay dividends in terms of enhancing customer happiness, improving employee morale, and increasing productivity.