Spiral Staircase Solutions
Retail and warehouses have always utilized mezzanine levels, but they are also becoming more common in residential properties as well.
If you're looking to expand your home without spending a lot of money or effort, a mezzanine level is a perfect option for you.
Steelgram Fabrications will design, manufacture, and install a spiral staircase for your mezzanine floor, working with you on the project from start to finish.
Contact us for a quote today.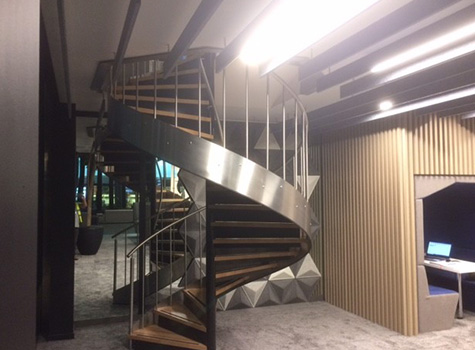 We're based in Sheffield, but serve the entire UK.
Every project is designed from scratch to your specific needs, so click the button below to fill out our quick quote form now:
Getting to a freshly constructed mezzanine floor might be a great challenge, but the spiral staircase appears to be the ideal answer. If you're looking to save space in your house, spiral staircases are an excellent option because they don't take up much room on the ground floor and on the mezzanine level.
In addition to providing easy access to your mezzanine floor, a spiral staircase complements any modern interior design. With a minimalist spiral staircase design, you may obtain the modernist style you want in your home.
Both your mezzanine and spiral staircase will help to raise the value of your house in tandem. When you're attempting to sell your house in the future, you'll want to make sure that your staircase has a modern and elegant design.

Why choose a spiral staircase?

Saving space is an enormous benefit. A spiral staircase is perfect if you're looking for more space downstairs because it has a higher gradient. As a result, they may bring in a lot of natural light and serve as a focal point in any space.
As a result of its modest footprint and ease of installation, spiral staircases are still common in new construction. They may be seen in a wide variety of homes, and they can even be found in a few high-end residences as a decorative staircase.