Steel Mezzanine Design & Construction
Looking for a strong mezzanine floor solution? Steel mezzanines are perfect for making use of extra headroom in large buildings, offering a strong and stable platform for extra storage, office space, retail space, or access.
Steelgram offers a full steel mezzanine service, from the initial consultation, to the design, manufacture, and installation of your mezzanine floor.
You can choose from single or multi-tier mezzanines, with fully customisable hand rails and staircases/access platforms.
We work closely with you to ensure all safety, fire protection, and edge protection solutions are implemented, as well as guiding you through the entire process.
Cost-effective, non-disruptive mezzanine installation service included.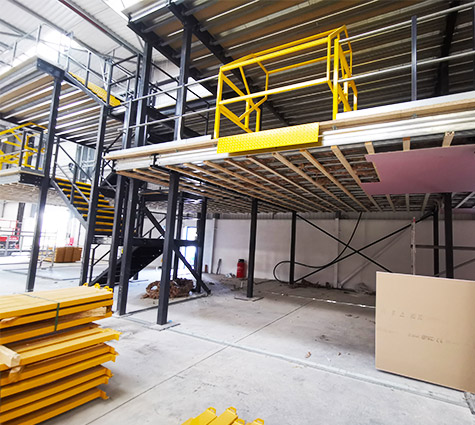 We're based in Sheffield, but serve the entire UK.
Every project is designed from scratch to your specific needs, so click the button below to fill out our quick quote form now:
MEZZANINE FLOOR PROJECT EXAMPLES

What is a Structural Steel Mezzanine Floor?

Steel mezzanine floors are made up of main support columns, support beams, secondary deck beams, tongue & groove particle board decking, and perimeter handrails and edge protection.
They're used to create extra space in a building without having to relocate, such as more storage, office space, or retail space.